Reflecting on HH's 'sweet' two years in office… 
   President Hakainde Hichilema, popularly known as ''HH'' or ''Bally'', can be said to have lived up to the expectations of many Zambians within a short period of two years in office.
   This is against the backdrop of inheriting a broken down economy and a limping executive, devoid of public confidence, from the Patriotic Front (PF) administration.
    Under the PF regime, Zambia's economic growth had contracted to 
-2.8 per cent in 2020, from an average of six per cent a decade ago.
   The country had a runaway inflation rate that had spiked to 22 per cent in 2021.
   Further, the exchange rate had deteriorated to K22/US$1 by July of 2021.
   The financial sector was gripped by exorbitantly high lending rates and tight liquidity, making it costly for individuals and businesses to access financing.
   Fiscal management was excessively deficient, and was characterised by poor resource allocation and reckless borrowing which increased the cost of debt service – resulting in debt defaults.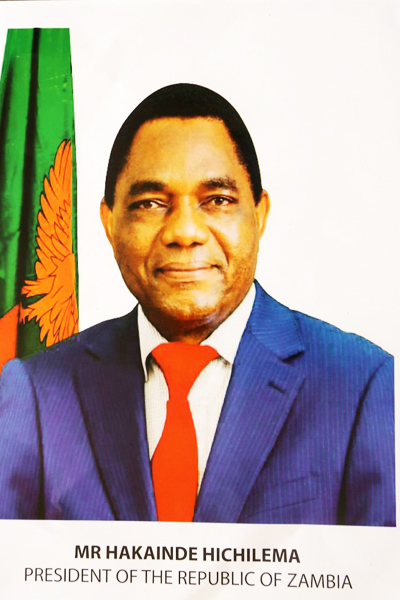 In 2020, Zambia become the first country in Africa to default on its foreign debt estimated at US$17.3 billion since the start of the COVID-19 pandemic.  
   Like Mr Hichilema told the Associated France Press (AFP) in an interview in May 2023, the huge debt incurred by the PF regime was ''like a python around people's necks, ribs and legs.''
   These and many other factors led to declining investor confidence in Zambia's economy.
   However, from the time he was sworn in as President on August 24, 2021, Mr. Hichilema's administration has slowly but surely began turning the weary Zambian ship around. Within two years in office the government has restored investor confidence and we are seeing the beginning of the transformation of Zambia into a better place for everyone. 
   Many citizens, whether rich or poor, can now testify of a better environment in many sectors of the social life and the economy.
   During the past two years, Mr Hichilema and his new dawn administration under the United Party for National Development (UPND) has fulfilled almost all its campaign promises.
    Specifically, the new dawn administration has prioritised the implementation of socio-economic interventions aimed at stabilising, repairing and reviving the economy.
   These interventions have included fiscal discipline, through enhanced transparency and accountability, to protect public resources, as well as serve the Zambian people with a sense of humility, clarity and diligence.
   Below we highlight some of the tangible achievements attained by the New Dawn government:

1.    DEBT RESTRUCTURING
   One of the key milestones achieved under President Hichilema has been debt restructuring. 
   This was in a bid to give a breathing space to the country's economy. 
   On June 22, 2023 in Paris, Zambia reached an agreement with its official creditors on the comprehensive debt treatment to ease pressure on Zambia's strained finances. 
    Zambia had sought help to restructure its debt through a G20 mechanism which is co-chaired by Paris and Beijing, but the implementation has been slow. 
   President Hichilema, who was in Paris when the agreement was reached, said in his Facebook posting that it was a significant milestone in Zambia's history. 
    International Monetary Fund (IMF) managing director Kristalina Geogieva congratulated Zambia over the debt agreement. 
    "Today we will talk about Zambia, which I think is a great case of celebration because it makes debt restructuring agile and effective and I want to recognise this,'' she said.
     Zambia's public sector creditors agreed to reschedule US$6.3 billion including US$1.3 billion in arrears, and private sector creditors are expected to do the same on the US$6.8 billion owed to them. 
     The agreement calls for Zambia's debt to be rescheduled over more than 20 years with a three-year grace period during which only payments on interest are due. 
      This restructuring agreement with official creditors, paves the way for Zambia to receive another US$188 million tranche of money from the International Monetary Fund, part of a US$1.3 billion package approved in August 2022.
    According to Reuters News Agency, Zambia is viewed as a test case for debt restructuring framework backed by the G20 nations and intended to streamline relief for countries caught in a developing world debt crisis.  
   Speaking at State house on June 27, 2023, Mr Hichilema praised the World Bank for the role it played in the debt restructuring process which culminated in the debt agreement in Paris. Last week in Lusaka, he also thanked China, as co-chair of the meeting in Paris, for being instrumental in Zambia's attainment of the debt restructuring.
2.    NAPSA PARTIAL WITHDRAWAL
    President Hichilema signed into law the National Pension Scheme (NAPSA) Amendment Bill 2023 on Monday, April 17, 2023. 
   The bill allowed members of the scheme to make 20 per cent partial withdrawal of their contributions. 
    This has assisted many citizens to invest their money in income generating ventures unlike in the past when many died before accessing their pension benefits.
    The signing of this law marks the fulfilment of one of the key campaign promises made by the President in the 2021 General election.
     According to an update posted on its official Facebook page last week, NAPSA disclosed that it had paid a total of K8.5 billion which was accessed by 385, 984 members of the authority. This included 57, 175 women, who were paid over K1.4 billion.
3.    RELENTLESS AND ALL-ENCOMPASSING FIGHT AGAINST CORRUPTION
   The Government has led a relentless and all-encompassing fight against corruption. 
   This campaign has seen the prosecution of past and current corruption cases in the courts of law.
Senior Government officials and ruling party officials under UPND have not been spared in the fight against corruption. 
    The rule of law is now being applied genuinely unlike in the past when there were sacred cows. 
Under the UPND Manifesto, the ruling party promised to eradicate Government waste, corruption and strengthen governance.
    The UPND further promised good governance, separation of power with other arms of Government and ensuring that all citizens are equal before the law. These promises are being fulfilled.
4.    REINTRODUCTION OF FREE EDUCATION 
    President Hichilema has delivered on his campaign promise of reintroducing free education in all public schools from early childhood to secondary school level. 
    This great milestone has made it possible for children, regardless of their financial background, to access an education and possibly have a better future.
    Minister of Education Douglas Siakalima disclosed last week that the New Dawn government's free education policy has seen an astronomical increase in the number of children who are now in schools. Close to ten million children are currently receiving education throughout the country. 
    Schools are battling with inadequate classroom space and desks as many pupils, especially those who had stopped their education, are now back in school.  
   This has brought about increased business opportunities for the local people to supply desks and building materials to different schools. 
5.    RECRUITMENT OF MORE TEACHERS AND HEALTH WORKERS
   In 2022, the Government employed 30,496 teachers and 11,276 health workers which is unprecedented in the history of the country. 
   This has essentially fulfilled the UPND campaign promise to create jobs as well as enhance the provision of quality education and health care to Zambians 
6.    ENDING OF CADREISM IN PUBLIC PLACES
  Mr. Hichilema's administration delivered on its campaign promise by ending the problematic cadreism which was ripe in many public places. Cadreism was in the past a source of heightened conflicts as supporters of the PF took over the running of markets, bus stations and other public stations. There is now sanity in public places as local authorities are collecting revenue from such places. 

7.    INCREASED CONSTITUENCY DEVELOPMENT FUND (CDF) ALLOCATION
    In order to take development to ordinary people to ensure that every citizen across the country benefits from natural resources, President Hichilema's administration has exponentially increased the Constituency Development Fund (CDF) allocation.
    In 2021, the CDF was pegged at K 1.6 million per constituency and was last year increased to K25.7 million. This year (2023), CDF has been further increased to K 28.3 million per constituency. 
   Various projects such as Schools, Markets and Health centres, among others, are being constructed across the country under this fund.
   Under the UPND Manifesto, the ruling party pledged to create quality jobs particularly for the youths and women as well as eradicate poverty and inequality.  This aspiration has already been achieved under CDF. 
8.     ABOLISHMENT OF DEATH SENTENCE AND CRIMINAL DEFAMATION
     On December 23, 2022, President Hichilema signed into law Penal Code (Amendment) Bill number 25, which banned the death penalty and the offence of Criminal defamation of the President. In the past, there was a huge public outcry locally and internationally for Zambia to abolish the death sentence and Criminal Defamation of the President.
9.    NATIONAL UNITY AND BALANCED APPOINTMENTS 
    In his two years in office, the Head of State has brought national unity which is key in fostering social and economic development in line with the country's ''One Zambia One Nation'' mantra. His first cabinet and other appointments were regionally balanced unlike in the past when citizens were mainly appointed based on particular tribes or provinces.  This gesture at national level has also motivated the public and private sectors to employ people based on merit and not tribe or any affiliation. 
     Under the UPND Manifesto, the ruling party promised to eradicate tribal divisions by unifying all Zambians and embracing the country's diversity. 

10.    ENDING OF LOADSHEDING OF ELECTRICITY
    President Hachilema's administration has ended the power supply interruptions which the country experienced in the past. Under the UPND Manifesto, the ruling party promised to eradicate ZESCO blackouts through better management of existing facilities, increased investment and diversifying of the country's energy portfolio.
   In April, 2023, the Energy Regulation Board (ERB) reduced the price of electricity for low income domestic consumers from K47 to K40 per 100 KWH to cushion the high cost of living in conformity with government policy to make power accessible to all Zambians. 
11.    ENERGY SECTOR REFORMS 
    The government has undertaken various Energy reforms that are aimed at improving efficiency and sustainability. 
    Lusaka based energy expert, DR. Johnstone Chikwanda noted last week that the country had shifted to the use of cleaner fuels, with sulphur diesel being out lawed as the commodity was not good for health and the environment. 
   He commended the government for successfully converting the 1,710 km TAZAMA pipeline from transporting co-mingled feedstock to refined low sulphur diesel, a significant milestone in the cost reduction plan. 
12.    RESTORATION OF STUDENT MEAL ALLOWANCES 
     Student meal allowances in all public universities have been restored. This has assisted many students to mainly focus on their education. 
13.    PAYING OF RETIREES 
     Retirees in various Government institutions such as Tanzania Zambia Railways (TAZARA) and the defunct UBZ and Zambia Airways have either been paid or have been assured that their terminal benefits will be made good. This was after they spent many years of waiting for their dues. 
14.    MEDIA REFORMS AND ENACTMENT OF ACCESS TO INFORMATION (ATI) LAW
     A free media is a cornerstone of democracy globally. Under the New Dawn government, democracy has been revamped especially that citizens are now able to express their views freely on any media platform unlike in the past. Both the public and private media outlets are now providing a platform for the public including opposition leaders to express their views freely.
     Further, President Hichilema's administration has reiterated its commitment to enacting into law the Access to Information (ATI) bill which has been shelved for more than 20 years. This commitment and the promotion of a free media landscape are in line with the UPND Manifesto. 
15.    SPORTS FUNDING INCREASED 
     Mr Hichilema has been warmly applauded by the sports fraternity for his pronouncements that his government remains committed towards the all-round development of sport. '' We will treat all sports disciplines equally. There is no minor sports in the country,'' he is on record as saying. The financial support given to associations through the Ministry of Sport has this year alone seen twenty two (22) of them traveling out of the country to participate in events at either regional, continental or international level. 
     The government has introduced equal pay for both the Men's and Women's National team for Africa Cup and World Cup football qualifiers amounting to $5,000 per player for a win in each game.
16.    REMOVAL OF STREET VENDORS 
    The new dawn administration scored highly recently when it managed to remove street vendors from undesignated places in Lusaka and other cities across the country. 
   Street vending has been problematic in Zambia especially that it was also a source of diseases like cholera in Lusaka. 
  Although Statutory Instrument (SI) No. 2 of 2018 was issued five years ago prohibiting street vending and classified as a public nuisance, it was ignored by the previous government mainly because of politicking.
        
Therefore, kudos go to President Hichilema's administration for implementing this piece of law and bringing sanity on the streets, particularly to the Central Business District (CBD) of Lusaka. 
 
17.    HOSTING OF 22ND COMESA SUMMIT IN ZAMBIA
    Zambia successfully hosted the 22nd Common Market for Eastern and Southern Africa (COMESA) Heads of State summit in Lusaka in June 2023. 
   The organisation's website reveals that with its 21-member state, a    population of over 583 million, a Gross Domestic Product (GDP) of USD 805 billion, a global export / import trade in goods worth USD 324 billion, COMESA forms a major market place for both internal and external trading. 
   The key take away from the summit included President Hichilema taking over the chairmanship of the COMESA authority from Egyptian President Abdel Fattah El-Sisi and recognition of efforts made by the media to create awareness of COMESA programs and projects
18.    HH ECONOMIC DIPLOMACY AND ITS BENEFITS 
   President Hichilema's foreign engagements have continued to bear fruit for Zambia with many investors across the globe expressing interest to invest in the country. Recently, the United Kingdom (UK) signed two deals WORTH £3.1 BILLION towards key economic sectors namely mining minerals and renewable energy, as well as investment into Small and Medium Enterprises (SMEs). 
   The Green Growth Compact aims to drive investment in Zambia's green economy, strengthening the growing economic partnership between Zambia and the UK, tackling climate change, creating jobs and new business opportunities in both countries. 
The extension of the joint efforts was building on the initial commitments made when the UK –Zambia Green compact was signed in 2021. 
19.    EUROPEAN UNION GIVES ZAMBIA ADDITIONAL MONEY JUNE 2023 
   The European Union (EU) has given Zambia an additional K2.3 billion for budget support, rehabilitation of the Kariba Dam and scaling up production among small scale farmers.
   The increased funding which is equivalent to Euro 110 million is a top up to the Euro 300 million (K8.69 billion) that the EU provided to Zambia as a ''democratic dividend'' for the period 2021-2024 to support those priority areas. 
20.    WORLD BANK APPROVES US$100M CREDIT
    The World Bank in June 2023 approved a US $100m credit to strengthen Zambia's nature- based economy and increase economic opportunities in emerging tourism destination in the country. The credit financing will be a boost for the Green, Resilient and    Transformation Tourism development project and go towards tourism destination such as Liuwa Plains National Park, source of the Zambezi and Kasaba bay.
21.    PARTICIPATION IN UKRAINE - RUSSIA PEACE MISSION. 
   President Hichilema was a member of the African peace initiative mission to Ukraine and Russia in June 2023 which included Presidents Cyril Ramaphosa (South African), Macky Sall (Senegal), Azali Assoumani (Comoros), among other leaders. 
   On his return, Mr Hichilema clarified the objective of the mission and had this to say, "We heard the arguments from both sides and got to appreciate the seemingly irreconcilable differences and deviation narratives that are driving the war.      ''We are not expecting a solution to this war to emerge from Africa but Africa needs to be part of the solution. This trip was important to ensure that African voices are not only heard but also that we must have a say in global issues. We need to be part of the discussion and have our views reflected. 
   "I see this mission as a start on the part to a stronger and more effective African voice that will be good for the continent and the world. We bring strong values of peace and humanity, and we need to demonstrate these values at home as well as abroad.''
   This participation demonstrates the President's growing confidence and maturity in international diplomacy, accurately representing and bringing the Zambian characteristics of peace and affability to a global audience
CONCLUSION
   It is indeed recognised that many challenges lie ahead for Mr. Hichilema. Certainly, the Zambian people will continue to demand more and it will be incumbent on the President to address those demands. There can be no doubt that the challenges of inheriting a broken down and largely desperate state continue to remain.
   By and large, however, President Hichilema's two years in office has been solid, if not spectacular. The administration can point to the macroeconomic stability that is slowly beginning to manifest as evidenced through low inflation rate, a steady Kwacha and increased investor confidence, among others. 
   Whilst it is acknowledged that the many readers of this newspaper may have alternative views, out of a scale of 10, this author gives President Hichilema and the UPND an eight.  This score necessarily takes into account the failing economy, public confidence, violence, impunity, corruption levels and nepotism which the current administration has had to contend with after Zambians voted the PF out of power in August, 2021.  The two points are predicated upon how the government addresses issues like the Constitutional and other legal reforms, efficiency of service delivery, fighting corruption, among others.
   Nonetheless, there is no doubt that the next three years of  Mr. Hichilema in office gives rise to optimism and with it is our responsibility as Zambians to do our part in achieving our collective goals.
Monday, 21 August 2023. - This article is 2,970 words
THIS ARTICLE WAS PUBLISHED IN THE 'TIMES OF ZAMBIA' NEWSPAPER ON FRIDAY, AUGUST 25, 2023 AS A FULL PAGE STORY.